RECOMMENDED MATERIALS
Samara Fishing Trip adheres to the highest standards when it comes to equipping its clients with fishing gear. Our tackle includes: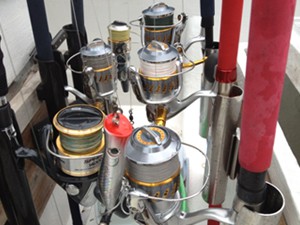 RODS in 30, 50 et 80 LBS
To cast and for to Jig type Zenaq, Smith, Daiwa, Tenryu, Sakura, Shimano Aspire Saltwater, Hearty Rise
THE REELS
Type Stella,  Saltiga, Saragosa, Slatist, Penn
THE DECOYS
POPPERS : Feed Popper, Halco Roosta, Rough Trail Malice, Rough Trail Aomasa, Shibuki, Britt CBP, Bull pop, Realis Jangstick, Dumbell Pop, Mister Joe
MINNOWS : Rough trail Blazin, Press Bait HD
JIGS : 0.132 lb to 0.440 lb/60 to 200 g Hearty Rise Sitenkiba, Slow Jigging 2 and Mars, Smith Masamune, Sanagi, Sakai, jackeye Slow
THE SMALL FISHING TACKLE
Shock Leader 60 to 100 lbs
Broken and welded rings 6 to 9
Tornado Swallows
Hooks 72/66 TI single size 5/0 to 9/0 and 75/60 TI triple size number 1, 1/0 and 2/0 VMC
And your combat harness!
Don't forget your usual equipment to protect yourself from the sun: Hat (the cap will not protect your ears! Captain's word!) goggles, sun protection cream (high index), long-sleeved T-shirts and your fishing gloves.