THE 2020 FISHING SEASON 2021
STARTS IN NOVEMBER 2020!
Located on the Pacific coast of Costa Rica, it is in Playa Samara that our fishing center offers you :
Coastal and deep-sea fishing
Lure fishing, jigging, long line… All techniques are possible!
From November to May, as well as in July and August, come and fish for the famous cockerel fish, red carp, grouper, carangue, yellow tuna, yellowfin tuna, swordfish, marlin…
all the predators of this area of the Pacific known for its density and the size of its fish.
The absence of a deep-water port on the coast of the Nicoya Peninsula is an additional asset for sport fishing and the preservation of the species.
A word from the captain
Confirmed or novice, the main thing is to fish and share.
We practice Catch & Release.
We equip our lures with single and double hooks.
We use a Big Game clamp, to release the fish in the best conditions.
Gregory
TESTIMONIALS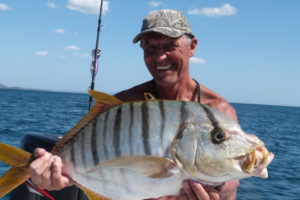 Daniel France – mars 2020
Red carp, rooster fish, jacks, yellow and black tunas… a glimpse of what is possible in Samara Playa. Gregory and Jhonny worked hard to make us discover the best fishing spots in this area of the Guanacaste. From the equipment, to the boat to the electronics, everything on board is impeccable. An exotic fishing with all the excitement, suspense, combat, merit and respect both for the fishermen and their expectations and for the fish… served with friendliness and complicity. A little nod to Esméralda who prepares the meals for lunch as well as small culinary attentions such as pancakes for coffee in the morning. We recommend Samara Fishing Trip! Viviane and Daniel."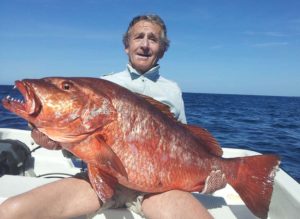 Jean France – mars 2020
Back from Sámara we still have in mind this fishing trip with a dynamic and attentive team. Popper fishing along the coast as on my island in Brittany with different varieties of fish! This year I wanted to fish "light" by not exceeding 40 to 60 lbs, emotions guaranteed. At the end of the line, red carp, rooster fish and battle jacks. Farewell to some poppers embarked by indomitable voracious… But after a good fight!
The clean and well equipped boat allows 2 or 3 fishermen to fish. The fishing guide, Greg, assisted by the sailor Johnny, very efficient and always smiling, knows his garden well. It is a great pleasure to be with this team.
My wife who accompanied me on the last day was able to try a few casts with Greg's wise advice. She also had the immense pleasure of seeing a whale that made us admire its back and its beautiful waves. A few dolphins also came to greet us while a little further away, rays were jumping and diving, raising foamy wreaths.
The team is completed by Esmeralda who is in front of her computer and… her ovens to prepare a welcome "almuerzo". We are already thinking of next year to go out to sea to look for yellowfin tuna and swordfish. See you soon. Jean